Back
Flumazenil
Flumazepil
Reference standard for PET tracers [18F]flumazenil and [11C]flumazenil
Product number:
PL-011-S1
Chemical name: Ethyl-8-fluoro-5,6-dihydro-5-methyl-6-oxo-4H-imidazo[1,5-a][1,4]benzodiazepine-3-carboxylate
CAS No: 78755-81-4
M. Weight: 303.3
M. Formula: C15H14FN3O3
Purity: > 95%
Certificate: CoA, 1H NMR, 13C NMR, HPLC
Application:
Neuroscience; GABA receptor
Literature:
Kang Y, et al. Brain Commun. 2022.
Takashima H, et al. Front Neurol. 2022.
Lukow PB, et al. Commun Biol. 2022.
Gendron T, et al. EJNMMI Radiopharm Chem. 2022.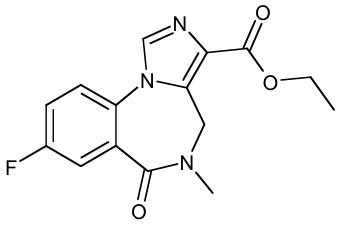 Ask about this product
NB! If you haven't got any response within 3 working days after contacting us through the form below, please check your junk mail folder or send your inquiry directly to Olavi Loog at olavi@pharmasynth.ee or to our general e-mail: pharmasynth@pharmasynth.ee.